Green and Clean Product Spotlight: CleanWell Natural Antibacterial Sanitizing Wipes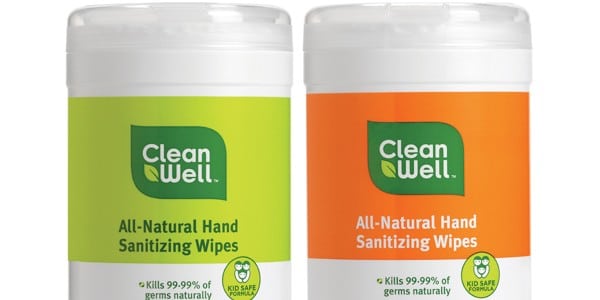 At Ecosparkle, we believe that clean just isn't clean unless it's good for the planet too!
That's why our Green Clean Team uses 100% natural, plant-based natural and organic cleaners in every home, office or retail space (including Newmarket's Nature's Emporium) that we visit!
This week, our Green Clean Team is sharing our Green & Clean Product Pick of the Week – CleanWell Natural Antibacterial Sanitizing Wipes!
Out with Conventional, in with Green Clean!
The Pick:
Clean Well Botanical Disinfectant Wipes
The Product Lowdown:
How many times have you found yourself in the car, in the office, or simply around the house looking for a quick and easy, environmentally friendly option to create a quick, clean shine? We know we have.
Enter CleanWell, with their excellent line of Botanical Disinfectant Wipes – produced with 100% natural ingredients.
These potent, germ fighting wipes offer an effective, natural alternative to the conventional choices. For starters, they eliminate over 99.9% of household germs (thanks to their Thyme essential oil based disinfectant), along with the cold and flu viruses. And, unlike the conventional options, you don't need to wear gloves or re-clean surfaces after using them.
They're even safe to be used without wiping on food contact surfaces!
Our Experience:
These wipes work wonderfully on many types of surfaces. We particularly like them for a handy, thorough cleaning of auto surfaces (such as interior door handles, gear shift handles, steering wheel surfaces and cup holders). One wipe provides a significant amount of coverage, allowing us to thoroughly clean all interior handles (including the wheel) in one go.
They're also extremely handy when placed next to the monitor at the office, reminding you at a glance to give the phone, keyboard and mouse a quick wipe down.
While we definitely love these wipes, we do have a couple of gripes. For starters – and this is common amongst all wipe products we've tested – we found that the wipes toward the end of the package were significantly less moist than those at the start. This led us to wonder whether they offer the same effectiveness from start to finish. They certainly don't offer the same coverage, which is a bit of a pain when the package is winding down.
Additionally, we were disappointed not to find an unscented variety available. According to the manufacturer, the Thyme oil (which plays such an important part in the disinfectant solution) has a scent which is impossible to remove (essential oils do produce VOC's, for those who may not already know). Although this is understandable, it's unfortunate that those with scent sensitivities will have to look elsewhere.
Still, these minor gripes aside, the wipes offer a compelling option that is hard to pass up for green cleaners eyeing convenience. We definitely recommend you pick up a pack at your local green retailer (we recommend Nature's Emporium).
When it comes to Clean and Green, Nature has the answers!
We hope you enjoyed this week's Green & Clean Product Spotlight – featuring CleanWell's Botanical Disinfecting Wipes. We hope that you give them a try – and be sure to let us know what you think in the comments down below!
And Remember…
We'd love to help you discover the Green Clean difference in your home, office or retail space!
We've got 5 years of experience finding the perfect natural, eco-friendly antiviral solutions for our customers, and have been voted 'Best Cleaning Company' 5 years in a row in the 'Era Banner Reader's Choice Survey' right here in the York Region and the Greater Toronto Area.
We invite you to schedule a free quote with our Green Clean Team today, and learn how affordable natural and organic cleaning can be for your family – backed by our 100% satisfaction guarantee!