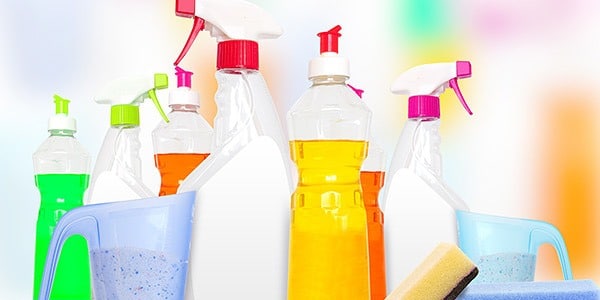 At Ecosparkle, we believe that clean just isn't clean unless it's good for the planet too!
That's why our Green Clean Team uses plant-based natural and organic cleaners in every home, office or retail space (including Newmarket's Nature's Emporium) that we visit! This week, our Green Clean Team has put together a list of our favourite natural alternatives to 5 common conventional household cleaning chemicals!
It's time for some new household names!
In most Canadian households, a quick glance underneath the kitchen sink reveals a wide array of widely known, brightly packaged conventional cleaners. Yet, behind the shiny label lies a darker truth: many of them are poisonous, highly corrosive, contain endocrine disruptors that interfere with hormone balance, contain synthetic chemical fragrances or are otherwise filled with ingredients that simply don't need to be in our homes.  The fact is, there are excellent green cleaners that do an equally effective job without putting you or your family (including pets) at risk. Below, you'll find a list of 10 common household cleaners and their green alternative – giving you the perfect roadmap for replacing the cocktail under the sink and doing yourself (and the planet) a big favour!
1) Windex Glass Cleaner
Streak-free blue? Adios to  you! There's no need for Ammonia – very dangerous if swallowed – on such a light duty job. The truth is, you can make your own window cleaner for a lot less money by simply adding 1/4 cup of vinegar, a few drops of your favourite environmentally friendly dish soap (find ours below!) and 2 cups of water in an empty spray bottle. Alternatively, if you don't feel like mixing up a batch on your own, consider Bio-Vert's Eco-Friendly Glass Cleaner. Read more: http://www.care2.com/greenliving/the-best-window-cleaner.html#ixzz2yLN037CF
2) Lysol Disinfectant Spray
O-phenylphenol – one of the many compounds found in Lysol – is a fungicide, as well as a skin and mucous membrane irritant and is simply unnecessary in the pursuit of a clean home. The fact is, a simple spray bottle filled with plan, undiluted white vinegar offers disinfectant properties that are only marginally less effective than Lysol, for a lot less and with a lot less risk. For tougher jobs, consider opting for a product that contains natural essential oils such as thyme or oil of oregano, which offer more potent antimicrobial capabilities. A good place to start is with Cleanwell's Botanical Disinfectant Spray.
3) Febreeze & Other Automatic Conventional Air Fresheners
When considering a product to freshen the air in your home, a warning like "Do not use in small confined pet areas without adequate ventilation." and undisclosed synthetic chemical ingredients should be a dead-ringer to avoid the product contained therein. Instead, opt for electric diffusers that produce wonderful aroma's naturally using a variety of non-toxic essential oils (such as sweet orange, which has a lovely, mild scent). Alternatively, for general and spot deodorizing, consider Bio-Vert's Ecologo Certified Citrus Air Freshener.
4) Simple Green Concentrated All Purpose Cleaner
Nothing says clean like 2-butoxyethanol, a red-blood cell damaging solvent that is easily absorbed through the skin. Bonus points for it's eye irritating qualities. Again, it doesn't get more general than plain white vinegar. Sure, it isn't fancy, but it does the job. Yet, if you find the scent of Vinegar a little hard to handle, consider a product like Effeclean's Ultra-Green All Purpose Cleaner – available unscented or 'Morning Breeze'.
5) Vim Oxy-Gel All Purpose Cleaner
We like clean, but we definitely don't like Benzisothiazolinone – a known wildlife and environmental toxin and irritant with probably allergenic qualities. If you need to keep your floors clean, look to Bio-Vert's EcoLogo Certified Eco-Friendly Floor Cleaner. Clean floors, without the concern. For more great information on products you should avoid, check out the Environmental Working Group's Cleaning Hall of Shame!
It's that simple!
No matter the cleaning task you've got ahead of you, there's a natural solution not far away. We've listed a few of our favourites, but haven't even scratched the surface of the many amazing options that have come to market over the past few years. To get a better look at some of the incredible natural & organic green cleaners available for every household cleaning job, check out a large green retailer like Nature's Emporium – located in Newmarket and now new in Vaughan's Maple community (whom we're happy to provide retail cleaning services for!). You'll be amazed at just how many options you have to choose from! In the meantime, be sure to let us know some of the conventional cleaners that you've replaced in your home, and tell us what you've got under the kitchen sink now that you're all greened up! And Remember… We'd love to help you discover the Green Clean difference in your home, office or retail space! We've got 6 years of experience finding the perfect natural and organic, eco-friendly cleaning solutions for our customers, and have been voted 'Best Cleaning Company' 6 years in a row in the 'Era Banner Reader's Choice Survey' right here in the York Region and the Greater Toronto Area! We invite you to schedule a free quote with our Green Clean Team today, and learn how affordable natural and organic cleaning can be for your family – backed by our 100% satisfaction guarantee!