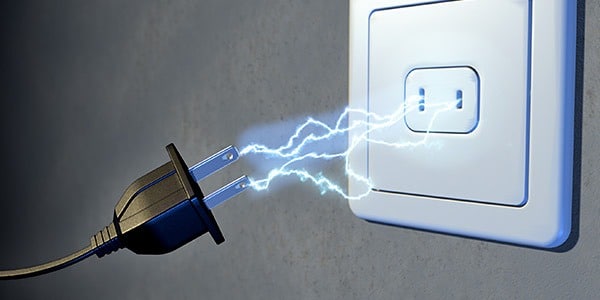 At Ecosparkle, we believe that clean just isn't clean unless it's good for the planet too!
That's why our Green Clean Team uses  plant-based natural and organic cleaners in every home, office or retail space (including Newmarket's Nature's Emporium) that we visit!
We're also keen on keeping the planet healthy by sharing great green living tips! That's why our Green Clean Team has put together some great tips for saving energy around the home and office – as we work to eliminate phantom power loss!
Silence – the sound of energy going down the drain!
If you're reading this blog, the chances are pretty good that you've made some efforts to improve the energy efficiency of your home – whether through our previous tips, like adding weather stripping to windows and doors – or from others you've gathered in your search for eco-information. Perhaps you're making every effort to shut down electrical appliances when not in use.
Yet, did you know that even when turned off, those electrical appliances – large and small alike – are still significant contributors to energy-drain in most homes and offices?
It's true – thanks to phantom power loss.
Phantom power loss is the name attributed to the small amounts of energy that are used continually by electrical appliances while in their "off" state. In fact, these "off" states are typically just "standby" modes, during which the electrical device stands ready to turn back on in a flash.
The problem is that these standby states, while insignificant on an individual basis, really add up when you consider the high number of such devices present in most homes and businesses.
Consider what energy draining devices may currently be around you at this moment – and their corresponding costs:
Desktop Computer – $3+
Laptop Computer – $8+
Printer – $2+
Telephone $3+
Speakers $2+
Monitors $2+
USB Chargers $2+
Television & DVR / PVR's – $50+
Home Theatre System – $50+
The list could go on and on, but as it grows, so to does the amount of energy lost each year needlessly.
Cut the energy drain off at the source – the outlet!
There are numerous techniques for greatly reducing phantom power loss in your home or office. If you currently use power bars or strips, you can turn the actual strip switch off, which immediately cuts power to all connected devices. However, this can be a real pain when the switch or strip is placed behind heavy AV gear or underneath the office desk. This is likewise the case when simply unplugging such devices at the outlet; there may be dozens around the house, and many are in inconvenient or inaccessible locations.
Luckily, there's a great way remedy the situation – it's called a "Smart Strip Energy Saving Power Strip/Bar", and it's built to conserve!
Smart strips work by monitoring the draw of electricity by connected devices. When a significant drop of draw is detected – such as the shut down of a television, for instance – the entire strip shuts down, eliminating phantom drain in a hassle-free manner. This is super handy for the previously mentioned locations, such as behind the home theatre system or underneath the office desk.
Furthermore, as some devices don't like to be fully shut down – perhaps a router, or internet modem – most smart strips offer a couple of outlets that will continue to run while all of the others are shut down. This means that you still gain the convenience of services such as Wi-Fi without worrying about the needless draw of equipment nearby.
Choosing the right 'Smart Strip' is key!
As with any purchase, you'll want to make sure you get it right the first time – and smart strips range in terms of quality and convenience.
That's why we've put together a list of our picks for best-bet 'Smart Strip Energy Saving Strips' below – based on aggregate customer reviews found on Amazon.com!
ZuniDigital ZG10222B-27 10 Outlet Digital Smart Green Surge Protector – link HERE
Smart Strip LCG4 Energy Saving Power Strip with Autoswitching Technology and Fax/Modem Surge Protection – link HERE
Smart Strip LCG3 Energy Saving Surge Protector with Autoswitching Technology, 10-Outlet – link HERE
By placing these power strips throughout the home wherever electronics congregate, you can greatly reduce or eliminate phantom power draw altogether – reducing your footprint and saving money at the same time.
How much money? Eliminating the phantom losses in your living room alone can yield savings of almost $100 annually. Add that to $30+ in both the kitchen and office, and the savings become harder to ignore. After all, who wouldn't like to have $1600 in their pocket after 10 years?
We gathered our savings numbers HERE – also a great spot to learn more about phantom power losses and how to reduce them.
The power is yours!
We hope you enjoyed this week's tip, and hope it helps you to reduce your energy losses and live a little lighter. Be sure to share your energy saving tips in the comments below!
And Remember…
We'd love to help you discover the Green Clean difference in your home, office or retail space!
We've got 6 years of experience finding the perfect natural and organic, eco-friendly cleaning solutions for our customers, and have been voted 'Best Cleaning Company' 6 years in a row in the 'Era Banner Reader's Choice Survey' right here in the York Region and the Greater Toronto Area!
We invite you to schedule a free quote with our Green Clean Team today, and learn how affordable natural and organic cleaning can be for your family – backed by our 100% satisfaction guarantee!