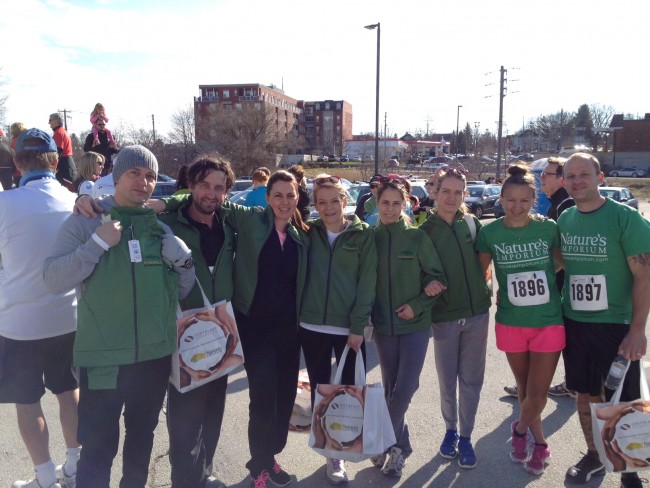 Community Spirit was in full-effect during another successful year at the Nature's Emporium Run or Walk for Southlake – 2014!
Today marked an amazing moment for our community, as we ran and walked side-by-side to help our incredible local hospital, Southlake Regional Health Centre, during the 2014 Run or Walk for Southlake Presented by Nature's Emporium!
Many members of our Green Clean Team gathered to take part in the run, marking our second straight year in attendance.
Despite cool morning temperatures there were thousands of smiles all around and the sun was shining happily as we shared in a warm-up led by regional councillors and honourable mayors from several York Region townships, including King, Whitchurch-Stoufville, Aurora and Newmarket.
It was a blast to see Joe D'Addario, a great friend of ours and the president of Nature's Emporium, up on-stage welcoming the crowd to another great year (in celebration of a great cause!)
Perfect for all ages & skill levels!
The race itself was a tonne of fun, with opportunities for runners and walkers of all skill-levels. There was a full 10k, a 5k, a 2.5k and even a kids mini-mile, which was a great source of post-race smiles!
We're proud of our team members for taking part and giving it their all, and we're also extremely proud of the wonderful community we share; we can't wait to see how much money was raised when all pledges are finally in!
The fundraising continues…
Don't forget, there's still time to donate up until May 15th, so be sure to make your contribution toward better health care for our community and the many families who will or have come to depend on it!
In the meantime, we'd like to thank you for all of the amazing support – we look forward to running again with you all next year.
-Your Green Clean Team at Ecosparkle Canada